2021 Toyota Corolla Apex Edition Review: Why Put Track Shoes on an Accountant?
When you think of fun-to-drive, affordable, compact sports sedans, a few names come readily to mind: Honda Civic Si, Volkswagen Jetta GLI, even newer Korean offerings like the Kia Forte GT. But there's one name that you generally don't think of in this context: the Toyota Corolla. The Corolla is generally considered more of an appliance, a car-shaped transportation tool that people buy because they need reliable transportation from A to B. It's efficient. It's comfortable. It's dead-nuts reliable. But fun to drive?
Well, Toyota, wanting you to think again about that last one, has offered up this: the 2021 Corolla Apex Edition, available on the SE and XSE trims. It's the company's attempt at creating something entertaining and fun to drive out of its humble, dependable, high-volume compact sedan. But has Toyota been successful in this effort? Not entirely.
Related: 2020 Toyota Corolla Review: Hatchback-Nice With a Trunk and Real Backseat
Tuned Appearances
The Apex Edition Package starts with some visual flair, and here it's pretty successful. You have a new front fascia in bronze and black trim sporting standard LED headlights, new lower side skirts, a new rear bumper and an optional rear wing that does nothing for aerodynamics but looks pretty cool. The wheels are unique 18-inch designs that are both lighter and engineered to improve brake cooling for the Apex; they're offered only in black, like much of the rest of the car's trim and the roof panel. The tires are more aggressive, with a choice of either all-seasons or no-cost optional summer tires. My SE test car was done up in bright white, but two other colors are available for the Apex Edition: black and gray.
It all looks pretty good, and I have to say that the latest Corolla certainly doesn't look like a transportation appliance. It has an aggressive, tuned look that's more subdued than what you'd see on a Civic but without a lot of the fake panels and vents that car has. For someone looking for a tuner version of their car, the Apex Edition is subtle yet effective.
Tuned Suspension Bits
The bigger changes for the Apex Edition are under the skin. You might notice that it looks lower than a standard Corolla; that's because Toyota has massaged its suspension rather significantly. It's 0.6 inch lower thanks to new shocks and springs, and thicker anti-roll bars contribute to its tighter body control. But all is not well here: Firming up the suspension has come at a considerable cost to ride quality, one you don't experience in a Civic Si or Forte GT. Yes, the car handles rather flat and it's very well controlled, but only on smooth pavement; once the pavement gets choppy or broken, the Apex Edition bounces its occupants all over the cabin, then bounces itself all over the lane. It honestly feels like Toyota took some aftermarket shocks and springs and replaced the smooth-riding Corolla's stock suspension with something a teenager might install — yes, it looks more aggressive and corners flatter, but it hasn't made the car more enjoyable on twisty roads.
A lack of change to the steering ratio also keeps it from being more fun. The steering feels rather slow; it doesn't have the quickness to it that the latest performance-oriented Hondas and Kias have. Instead, it just feels heavy, requiring more effort when you push the Sport button on the console but not providing better feedback.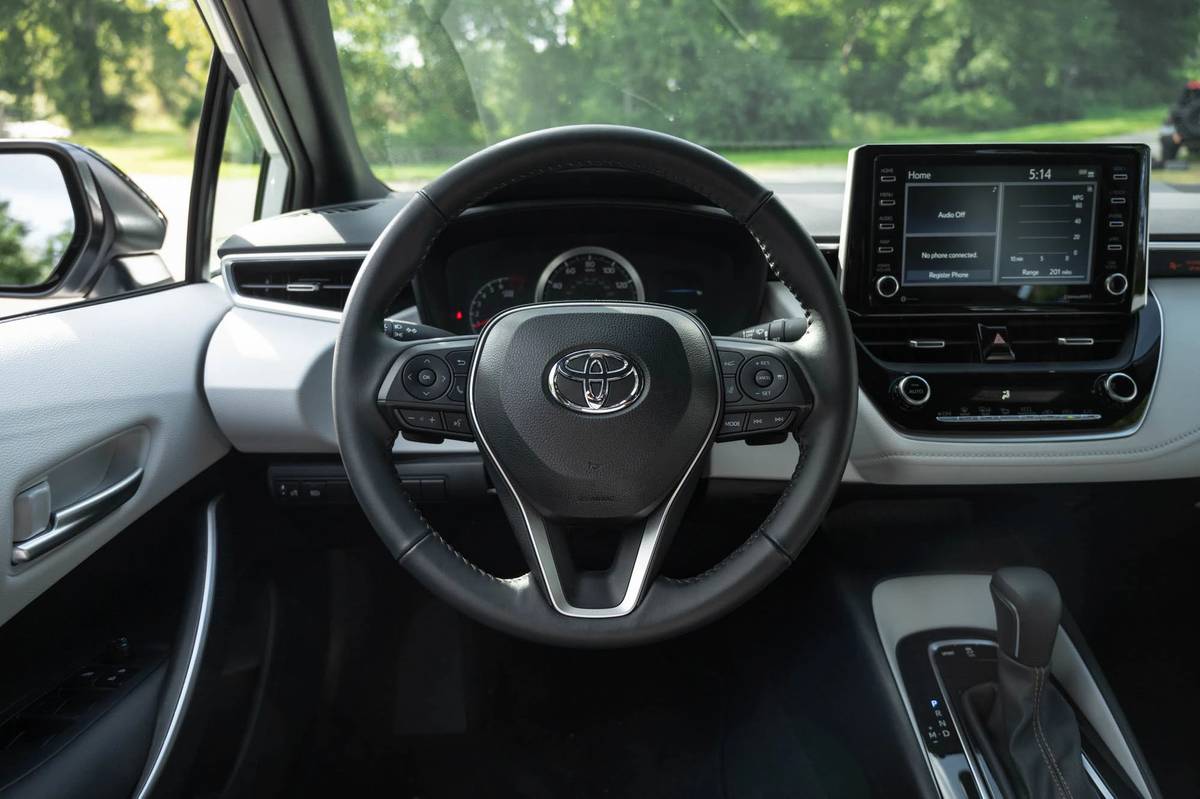 What about more power? Well, no. Just like the other slightly sportier sedan models Toyota has in showrooms, it's opted to leave the powertrain alone. There's a sport exhaust out back, but it affects only the noise the Apex Edition makes. The only engine is the naturally aspirated 2.0-liter four-cylinder that's standard on the SE and XSE, making 169 horsepower and 151 pounds-feet of torque. If that doesn't sound like a lot for a car with sporting intentions … that's because it's not. Similarly priced competitors from Honda, Hyundai, Kia and VW all make north of 200 hp and generate 40 pounds-feet of torque more than the Corolla.
The potential saving grace is that you can still get a manual transmission in the Apex Edition, and that's going to be the one you want. Your alternative, and the transmission my test car was saddled with, is a continuously variable automatic, and it really does the car no favors for sportiness. It's just plain slow when kept in it's default Eco mode and then gets oddly hunty in Sport mode, trying to behave like a geared transmission by pretending to shift gears. It even has paddle shifters to engage these fake gears. But the only result is that it feels artificially jerky in Sport mode, introducing pauses in the acceleration to try and fake being a traditional gearbox. No, just go for the stick shift — I've driven it in other Corollas and it's a fine shifter, much more sporty than the automatic option, that does a better job with this engine.
The only time the CVT actually feels good and the car feels adequately sporty is when it's in Sport mode and you're going between 45 and 60 mph — only then does the car feel properly responsive, with the transmission keeping the engine in its sweet spot for power. Acceleration overall is not in keeping with the car's sporting pretenses, making this Apex Edition package feel more like an appearance package with a few suspension bits thrown in to give the Corolla some stance. It's more sporty to drive than your average Corolla, but the changes haven't made it more enjoyable to drive.
Slightly Nicer Interior
Inside, it's the typical Toyota mixed bag of wonky ergonomics and decent materials. The sport seats are high-quality fabric, comfortable and mildly bolstered. There's plenty of room in the Corolla front or back — comfort has never been one of the Corolla's issues. Outward visibility is excellent thanks to a low beltline, and it's quiet in there thanks to careful design choices like placing the side mirrors on the doors instead of the crook of the window. All the power windows are one-touch down and up, which is a nice feature, and the big 8-inch multimedia display is bright and mounted high on the dash. The soft-touch fabric of the SE looks and feels good, and there's attractive bronze stitching throughout to match the exterior trim. (The XSE comes with SofTex vinyl-trimmed seats, heated front seats and an eight-way power-adjustable driver's seat.)
But some design details endemic to almost all Toyotas look and feel cheap, like the difficult-to-spin volume and tuning knobs, the tiny climate control buttons and the equally tiny buttons on the multimedia bezel. Why are these buttons so small? They have plenty of plastic real estate they could use, but the buttons themselves are bare millimeters thick and not easy to differentiate.
Competitively Priced, Just Not a Competitive Performer
So, how much will all of this set you back? The base price for a '21 Corolla SE Apex Edition (including destination) is just north of $26,000 with the CVT. Add another $375 for the optional spoiler and you have an as-tested price for this car of $26,440. Now, you do get a good list of standard equipment for that, including adaptive cruise control, 10 airbags, forward collision alert with automatic emergency braking, lane keep assist and more. You don't get built-in navigation; however, you do get standard Android Auto and Apple CarPlay, so why would you pay for navigation anyway?
The problem is that a much more fun-to-drive Honda Civic Si sedan tops out at $26,355 — but the Corolla does offer something the Civic Si doesn't at any price: an automatic transmission. A Jetta GLI offers an automatic, and it's a much more sorted, comfortable, entertaining sedan than the Apex Edition, but it rings in at about $28,000 with its automatic transmission. The fun-to-drive bargain here is the new Kia Forte GT, which can be had with a seven-speed dual-clutch automatic for just $23,455, or load it up with a manual transmission and options not even available on the Corolla like a moonroof, ventilated seats and a premium 10-speaker audio system, and pay just over 24 grand. 
So with the Apex Edition Package, has Toyota turned its Corolla into a fun-to-drive enthusiast sedan? No, I'm afraid not. If all you're after is a reliable Corolla that looks cooler and can handle smooth and twisty roads a bit better, then it might be worth looking into. It's definitely sportier than the regular Corolla, but the changes don't go far enough to justify picking it over more entertaining and equally priced competitors.
Cars.com's Editorial department is your source for automotive news and reviews. In line with Cars.com's long-standing ethics policy, editors and reviewers don't accept gifts or free trips from automakers. The Editorial department is independent of Cars.com's advertising, sales and sponsored content departments.