Which SUV Has the Best Third-Row Access?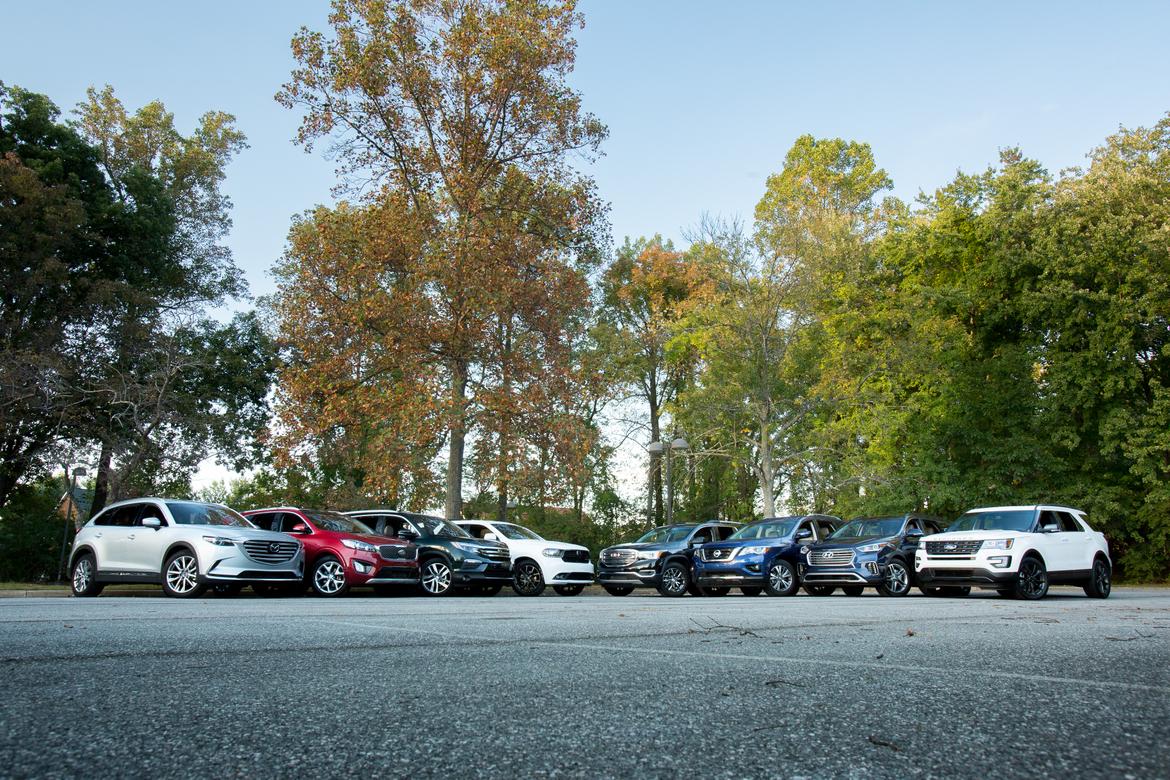 CARS.COM — An SUV's third-row seating could easily be called no man's — and no woman's — land. This necessary but often cramped space is for kids only, but they still need a way to get back there that doesn't involve climbing over the seats. During our Three-Row SUV Challenge 2016, we took a closer look at the third-row access for each of our competitors.
We looked at how easily the second row could be manipulated to create a pathway to the third-row seat, kept an eye on just how wide that walkway was and noted step-in height. Parents should also look for a wide enough space that they can climb back there should they need to help little ones get buckled into their booster seats.
Related: Bench Seats Versus Captain's Chairs
If you can't find a three-row SUV or you find one where third-row access doesn't pass muster, consider getting second-row captain's chairs to create another way to access the third row.
Three-Row SUVs With Second-Row Captain's Chairs by Model Year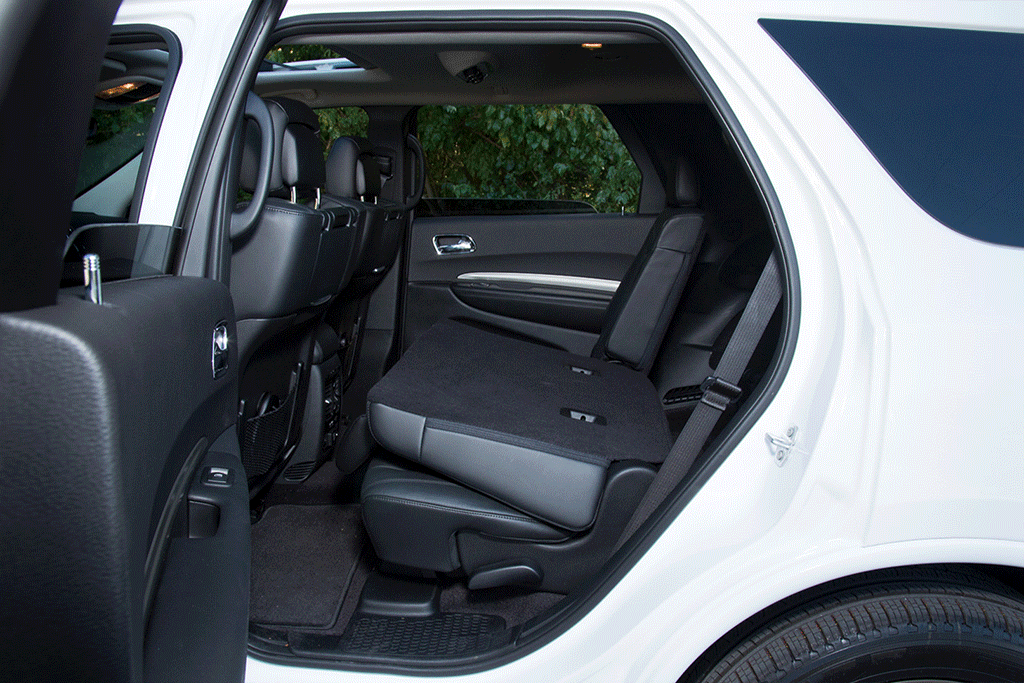 For multitasking moms and dads, it only takes one hand to flip and fold the Durango's second-row seats forward. This creates a wide passage to the third row that any child or parent can traverse, making it one of our favorites for easy-to-use third-row access.
This SUV's second-row seat also flips and folds to access third-row seating, but the seat is heavy and it's a multistep, multilever process. The pathway to the third row, however, is wide, which adults will appreciate if younger children in booster seats are destined for the wayback.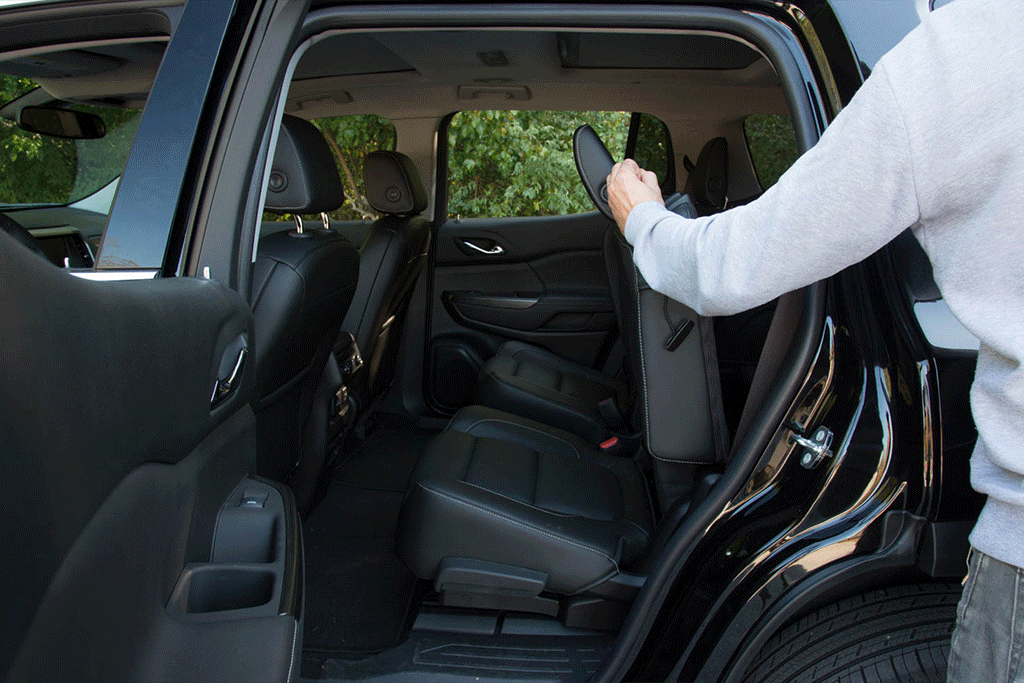 The Acadia shrunk more than 7 inches with its redesign, and it shows when it comes to third-row access. The second-row seat cushions fold upward and the whole seat slides forward, but there's hardly any passageway to the third row. Thankfully, our test car had captain's chairs — that's the only way an adult can navigate to the third row in this SUV.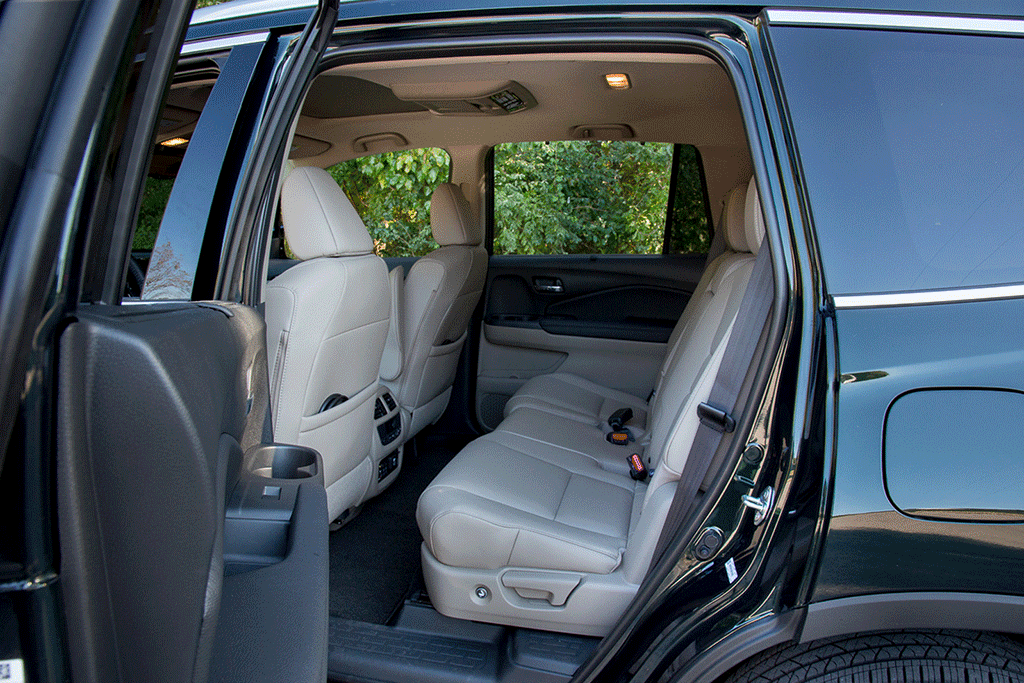 The Pilot treats families well thanks to its one-touch button on the second-row seats that folds and slides them forward for easy third-row access to third-row seating. The pathway to the third-row seat isn't the widest, but we were able to negotiate it.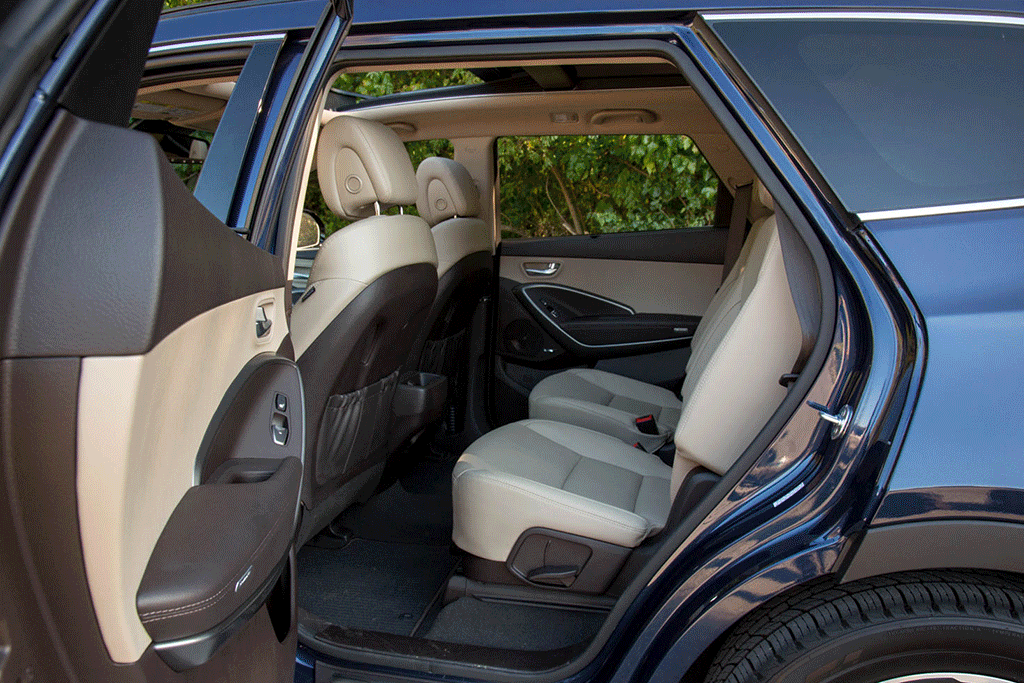 We had to use a little muscle, but we were able to slide the second-row seat forward with just one hand, creating a narrow path to the third row. Even though our Santa Fe had captain's chairs, the space between them is a little narrow; it's doable, but some adults will have to shimmy between the chairs.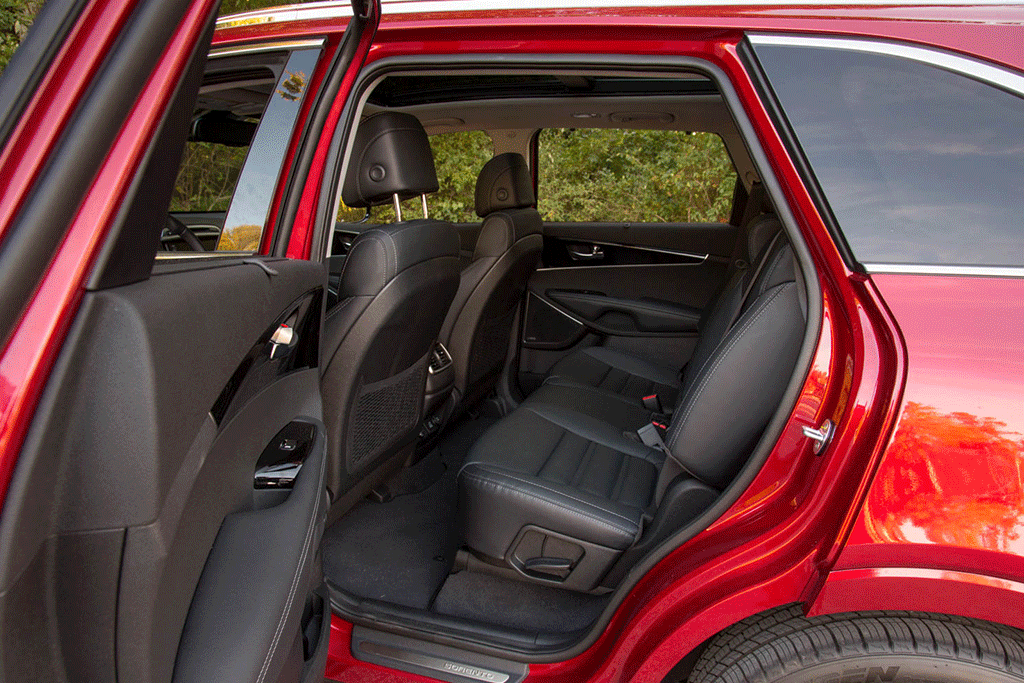 The Sorento skimps on third-row access, earning it a B in the feature in our Car Seat Check. But like its Hyundai sibling, we were able to fold and slide the second row forward one-handed.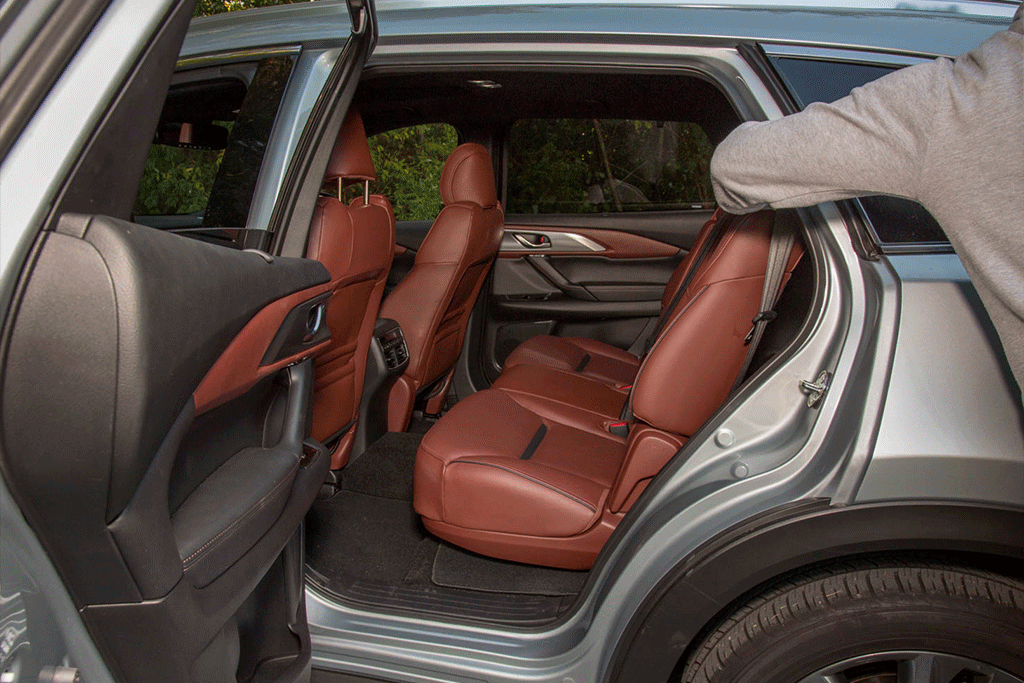 Space is at a premium in the redesigned CX-9, so we were surprised that this SUV had such a sizable pathway to the third row, though it wasn't as large as the pathway in the Explorer. The second-row seats fold and slide forward easily.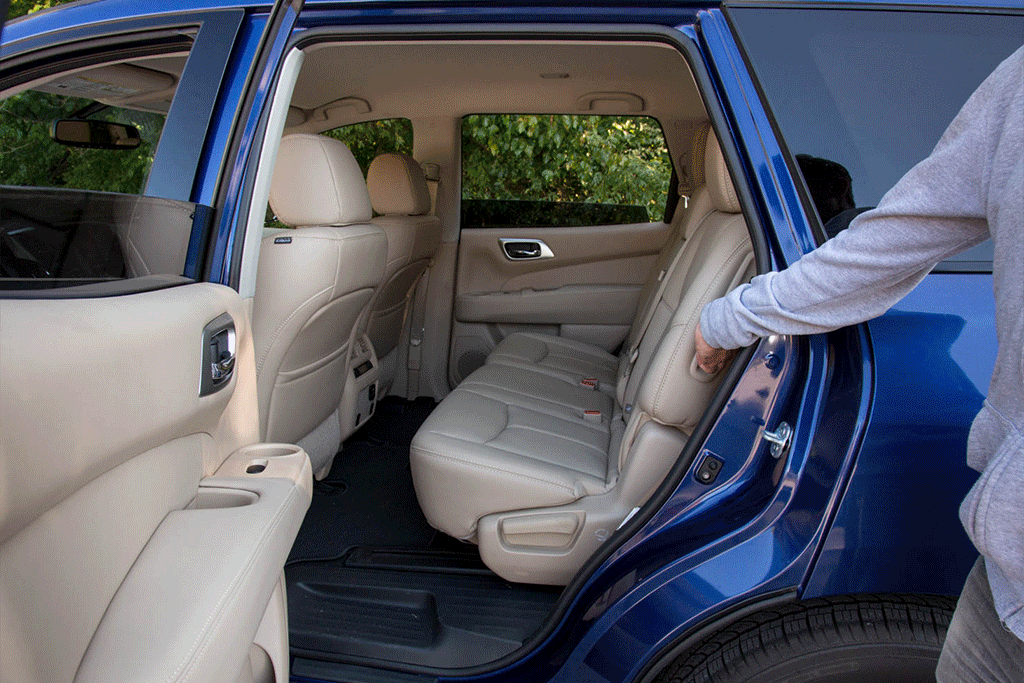 Just pull up on the lever and the redesigned Pathfinder's second-row seat cushion folds upward while the seat slides to create a wide opening to the third row. The higher step-in height, however, was a negative for our testers.
Cars.com's Editorial department is your source for automotive news and reviews. In line with Cars.com's long-standing ethics policy, editors and reviewers don't accept gifts or free trips from automakers. The Editorial department is independent of Cars.com's advertising, sales and sponsored content departments.