$27,895–$37,445 MSRP range
Key Specs of the 2017 Jeep Wrangler Unlimited
Wrangler Unlimited base trim shown
From the Cars.com Vehicle Test Team
The good
Off-road capability
Convertible versatility
Cargo room
Rugged styling
The bad
Unrefined handling
Highway noise
Side airbags not standard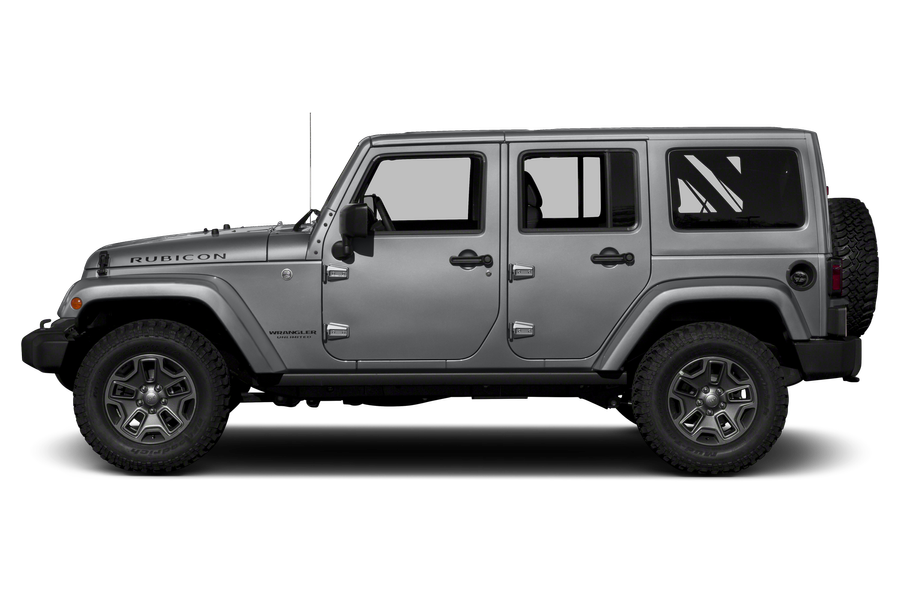 Notable Features of the 2017 Jeep Wrangler Unlimited
LED headlights and fog lights now available
Two- and four-door body styles
285-horsepower V-6 engine standard
Manual or automatic transmission
Four-wheel drive standard
2017 Jeep Wrangler Unlimited Road Test

Editor's note: This review for the 2016 Jeep Wrangler Unlimited Rubicon Hard Rock was written in December 2016. For 2017, Jeep has added a new trim level above the Rubicon, the Rubicon Recon Limited Edition, with beefier axle and differential components, plus new graphics inside and out. To see what's new for 2017, click here, or click here to compare the two model years.
There's really nothing quite like a Jeep Wrangler. That's not an exaggerated claim, either; it's the only body-on-frame SUV on the market with two live axles and doors that not only come off, they're easily removable. We're about to see an all-new Wrangler introduced for 2018, so we figured one last hurrah in the outgoing model was warranted.
We drove the top-of-the-line 2016 Wrangler Unlimited Rubicon Hard Rock. Loaded with every conceivable piece of off-road equipment on the options list, it is utterly unlike anything on the market. But while its off-road abilities are well-established, what is it like to live with every day? Lots of people buy a Wrangler for its looks and image alone, but does it make a decent daily driver?
Exterior & Styling
The Wrangler looks as the Wrangler has for decades. Take a look at an original 1941 Willys and you can immediately see the lineage. It's a shape and design philosophy as old and revered as the Porsche 911, Volkswagen Beetle or Ford Mustang. While it has varied some over the years (including a brief stint with square headlights in the ... Read more
Latest 2017 Wrangler Unlimited Stories
My Awesome Black Beauty !!
I absolutely love it... I have had 3 and hands down, best vehicle I've ever owned !!! It rides very smooth, eye catching beauty, and I couldn't be more satisfied... Read full review
2017 Jeep Wrangler
Great vehicle to customize. I've owned FJ-40's, awesome 4x4's, but Jeep corners the market on customization. Waiting for the diesel model! Yeah Baby! Read full review