$16,594–$34,718 Inventory Prices
Key Specs
of the 2014 RAM 1500 base trim shown
Body Type:

Combined MPG:

15-21 Combined MPG

Engine:

305-hp, 3.6-liter V-6 (regular gas)

Drivetrain:

4x2

Towing Capacity:

4,800 lbs.
From the Cars.com Vehicle Test Team
The Good
Interior design, comfort and quality
Storage options
Diesel-engine availability
Cheapest V-8 pickup you can buy
Excellent ride quality
The Bad
No direct injection in gas V-6 engine
Crank windows, manual locks &amp
amp
mirrors on base model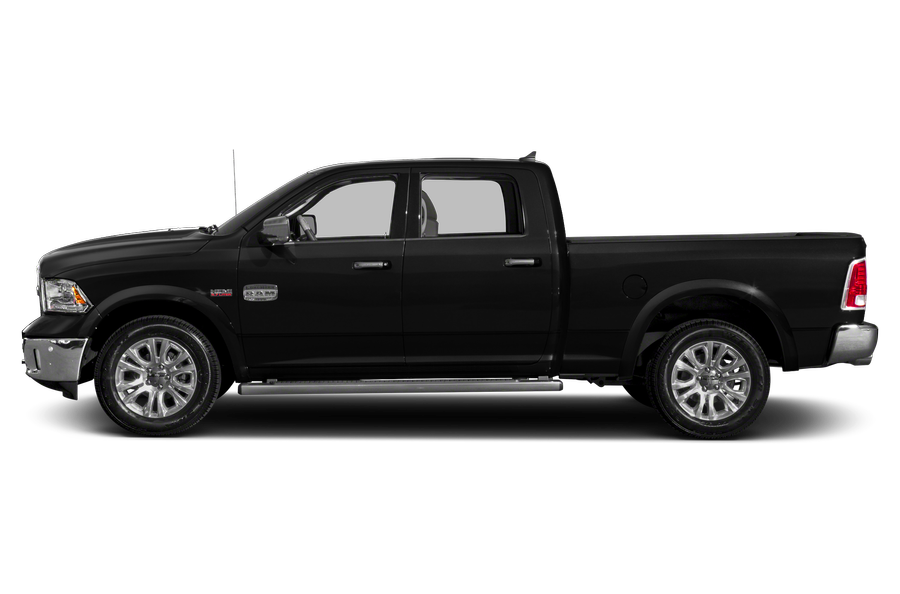 Notable Features of the 2014 RAM 1500
Newly available turbo-diesel V-6 engine
V-6 and V-8 gas engines also offered
Available eight-speed automatic transmission
Available four-corner air suspension

In the age of expensive pickup trucks, you can still get a cool one for under $30,000 — but in the case of the 2014 Ram 1500 Express, the content you'll have to sacrifice to get there may be too much.
Pickup trucks are expensive, far more now than they used to be, with the sticker prices of more well-optioned rigs easily topping $70,000. Even average, midlevel versions can go for nearly $50,000 when you start adding options.
The folks at Ram, however, think a good pickup doesn't have to be so expensive — and to prove it, they built the 2014 Ram 1500 Tradesman/Express. Take a Tradesman work truck, add a few appearance items, give it a Hemi V-8 engine and — voila: an attractive, two-door, sporty pickup that just happens to be the least-expensive V-8-powered truck in America. What do you get for the money you do spend? Not much, it turns out — not even some of the basics that people have come to expect in modern vehicles, though that hasn't stopped the Express trim from being massively popular with Ram customers. Compare the 2013 and 2014 Ram 1500s here.

Styling
The Ram light-duty truck got an update for the 2013 model year, making it one of the most attractive pickups on the market. The Express is the base version of the truck, so there isn't much flash. Instead, Ram has made a few cost-careful cosmetic choices to emphasize sportiness. The Express is limited to a few body styles: only regular or quad cab with the 6-foot-4-inch bed, or ... Read more
PickupTruck.com editor Mark Williams is in Arizona at the Firebird International Raceway for PickupTruck.com's Annual Physical pickup comparison.
Great car for the Price
This truck does the job. This truck is reliable and dependable for what I need around the house. I'm constantly doing work that required heavy lifting. Read full review
Nice truck
Great truck, plenty of storage places inside the cab. Handles very nicely on the highway.Lots of power, only five thousand miles like having a new truck. Read full review